GEFCO SA (Now majority owned by Russian Railways (RZD) since 2012)
2012
February - The announcement by PSA Peugeot Citroen that it intends to sell part of the equity of GEFCO was not too surprising. PSA has been under pressure for some time due to the depressed nature of its core market for small cars in Europe. The announcement that the automotive operations lost €92m on an operational basis in 2011 and that the company was cash-flow negative by €1.6bn only made the issue more urgent.
The nature of the proposal has not been made explicitly clear, however the CEO of PSA, Philippe Varin, stated that his objective was to raise "a bit more than €500m". He asserted that GEFCO was of strategic importance to PSA, however Peugeot Citroen has moved to establish long-term contracts with GEFCO presumably to make future revenue more predictable.
As of February 2012, the long-term intentions of PSA are unclear. It appears that PSA wishes to remain not merely a shareholder, but a majority shareholder; however this has not been confirmed. Speaking to investors, Philipe Varin commented that "we have not fixed, so far, the level of the stake we will dispose of. We have appointed advisors and are working on the case, but you have the order of magnitude of the proceeds from the sale of GEFCO." He went on to suggest that the market did not fully value GEFCO as part of PSA.
Therefore much depends on the valuation of GEFCO, which is a complex issue.
Looking at valuations of logistics companies sold in recent years, we see a price to operational earnings ratio of between 6:1 and 10:1. Peugeot–Citroen does not produce the complete finances of GEFCO and therefore it is unclear if the company carries any debt (or if all of this is carried at the Group level) or what the level of capital expenditure is.
At 5.9%, the operational margin is respectable by the standards of the sector and GEFCO has consistently shown the ability to grow.
However, there are strategic issues that complicate any valuation. In particular, 60% of GEFCO's revenue originates from business within the PSA Peugeot Citroen Group. This includes most of the finished vehicles and inbound logistics business and around 40% of the road freight business. It is unclear how the 'internal' PSA business is priced. One of the reasons for GEFCO's good profit margins may be that it receives better prices from Peugeot-Citroen than is normal in a sector characterised by poor returns. Historically, GEFCO has always denied this. Therefore the relationship between GEFCO and Peugeot Citroen is fundamental to the prospects of the company.
GEFCO Finances: Revenue by Business Segment % to Total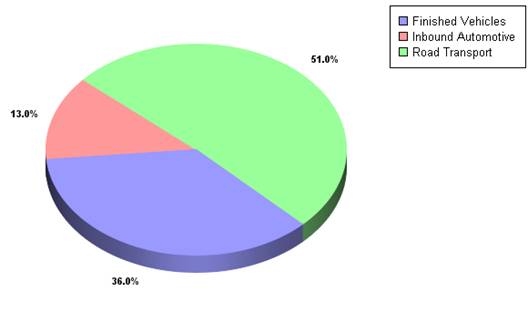 Source: GEFCO
Note: Figures are estimated based on historical data.
---
GEFCO is a wholly owned subsidiary of the French automotive PSA Peugeot-Citroen Group. GEFCO delivers global solutions for both inbound and outbound logistics for a range of industries.
GEFCO has three main business lines:
Automotive - vehicle distribution and preparation
Network - groupage and overland transport of freight
Supply - sea and air freight logistics and transport
In 2011 the company had revenues of €3.78bn.
---
History
Founded in France in 1949, the original purpose of the company was to provide transportation and logistics services for the auto manufacturer's finished vehicles. Since then, the company has expanded its range of services.